Hurricane Laura and the Unforeseen Affects on the Trichlor Industry
News, Sanitation
Hurricane Laura carried with it more problems than you can hope to bargain for in August of 2020. It not only brought the threat of high winds, fallen power lines, and deadly waters. But also the potential for hazardous air conditions caused by chemical breaches in the nearby trichlor chemical plants.
The Situation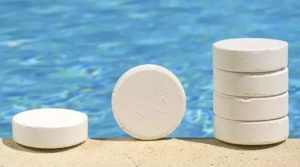 The Lake Charles region of Louisiana saw damage done to a BioLabs plant due to the storm on August 27th. KIK Custom Products is a large BioLabs chemical facility that produces essential chemicals and sanitation products for the pool industry. The damage led to a fire engulfing the plant for three days. Housing approximately 835 tons of product, the fire prompted authorities to direct residents to stay indoors, close windows, and turn off their heating and cooling systems to prevent the toxic fumes from causing harm.
The chemicals in question were disodium isocyanurate and trichloroisocyanuric acid better known as trichlor. When ignited, they can release toxic gases in the air exposing the potential for a large explosion. It can also lead to burning in the nose and throat, blistering skin, and respiratory issues. The Louisiana Department of Environmental Quality took proper measures before the fumes posed any danger. There were no injuries during that time.
The Effects on the Trichlor Industry
BioLabs, being the industry leader in producing these essential pool and sanitation products, has lost a significant amount of its inventory due to this unfortunate incident. During a year where we are suffering from a global pandemic and increased sanitation standards, these products are needed now more than ever. Looking forward to the warmer months ahead, it seems more families will continue to stay home and enjoy their swimming pools, thus requiring more chemical products and maintenance.
How to Prepare for Low Trichlor Supply
The loss of such a great amount of product along with the increasing demand means there is potential for the prices of such chemicals to increase. The amount of product lost is yet to be determined; however, prices are said climb sharply. Though it is still early yet for the swimming season, it is advisable to prepare now for pool openings, including stocking up on chemicals needed to get you through the majority, if not the entire swimming season.
Many pool centers are stocking up on products to brace for the high demand coming their way. That includes us here at B&B Pool and Spa Center! We understand the impact high chemical prices can have on overall budgets and finances. Especially during such a trying time. To ease that financial burden, we are offering a 20% discount on chemical orders of $500 or more when placed with your pool opening. When it's time to open your pool, our skilled technicians will bring your order along with them, delivering it right to your backyard!
Although we cannot predict the total effect the BioLab fire will have on prices; we hope we can help ease that pain point through this offering. Unsure of the amount needed for an extended period of time? Our professionals would be more than willing to assist you. Our team is available for any questions about the upcoming season or alternatives you would like to explore. We want you and your family to continue enjoying your pool all season long.